---
The 2015 Hollers for Scholars was another successful event presented by MDFS!
Comedian Graig Murphy
---
CALENDAR OF EVENTS, 2015-2016
Monday, November 2 ~ Board Meeting ~ 7:30pm ~ MHS Faculty Lounge
Monday, December 7 ~ Board Meeting ~ 7:30pm ~ MHS Faculty Lounge
Monday, January 4 ~ Board Meeting ~ 7:30pm ~ MHS Faculty Lounge
Monday, February 1 ~ Board Meeting ~ 7:30pm ~ MHS Library
Tuesday, February 9 ~ 6th Annual Fundraising Event ~ 5-9:30pm ~ The Landing Restaurant
Tuesday, February 16 & 18 ~ Brad Sheridan Basketball Tournament ~ 6:00pm ~ MHS Gym
Monday, March 7 ~ Board Meeting ~ 7:30pm ~ MHS Faculty Lounge
Monday, April 4 ~ Board Meeting ~ 7:30pm ~ MHS Faculty Lounge
Friday, April (TBD) ~ Sheridan Alumni Game ~ 7:00pm ~ MHS Gym 
Monday, May 2* ~ Board Meeting ~ 6:30pm* ~ MHS Faculty Lounge
Tuesday, June 7 ~ Board Meeting; HS awards ~ 7:30pm ~ Faculty Lounge 
Saturday, June 4 ~ 5th Annual Run for the Fund  ~ 8:00am ~ Devereux Beach                
Saturday, June 11 ~ Awards Ceremony ~ 1:00pm ~ home of Helaine Hazlett
Sunday, June 12 ~ MHS Graduation ~ 2:00pm ~ MHS Field House
*Town Meeting 
---
Congratulations to the 2015 Award Recipients!
 

Back Row: Graham Pollard, Jacob Sundlie, Benjamin Ryan, Maxwell Garthe, Zhen Humenn,

Mark Scribner, Robert Hill

Front Row: Karli Kovner, Eva Conte, Alexa Weistein, Jacquelyn Blayer, Laura Laub, Maisie Miller,

Grace Haley, Heather Purchase

Missing from photo Hannah Cohen

 

 

Judy Jacobi with recipient Maisie Miller

The Graders with recipient Max Garthe and The Cutting Family with recipient Eva Conte

 
---
Check out all the results for the 2015 RUN FOR THE FUND
A great start to a great race!
---
Scholarship America is pleased to announce the opening of
the 2015 Dollars for Scholars Matching Grant Program!
---
---
David Duncan, Helaine Hazlett and Jeff Frankel at last year's
National Affiliate of the Year celebration.
David Duncan, former Regional Director for Dollars for Scholars,
passed away on May 17th.
---
---
Dollars for Scholars: Making a Difference in Communities Across America
---
---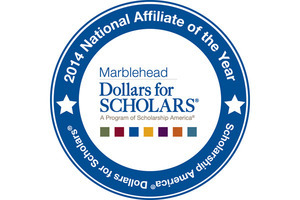 2014 Irving A. Fradkin National Affiliate of the Year
Marblehead Dollars for Scholars (Marblehead, MA)

 

With an established and distinguished reputation in the Marblehead area, Marblehead Dollars for Scholars is the 2014 Irving A. Fradkin National Affiliate of the Year. This affiliate exhibits excellence in board engagement -- an impressive feat, with a board comprised of more than 30 individuals, including a student director who mobilizes classmates to support the affiliate's activities. Marblehead Dollars for Scholars is also noted for the size and availability of its scholarship awards for students, which includes a very labor-intensive customization process to students' financial aidpackages. The process has garnered the affiliate recognition, from providing expertise on afundraising panel at a 2013 Dollars for Scholars regional conference to receiving praise from financial aid experts about the affiliate's close work with scholarship recipients.

 
2014 Regional Affiliate of the Year winners:
These affiliates demonstrate excellence across the spectrum, from board leadership to fundraising efforts to demonstrating the impact of their scholarship awards.
Each affiliate receives $1,000, one free fall conference admission and recognition during this year's regional conferences. The National Affiliate of the Year will be announced at a later date.
Congratulations!
With a board more than 30 individuals deep, including at least one student, Marblehead Dollars for Scholars' reach extends far and wide, serving students of all backgrounds in the New England coastal town. The scope of their work has created a distinguished reputation in the area. And with each board member working on a committee, the dedication to getting the job done on behalf of students is clear. Internally, the care and responsibility for the health of Marblehead Dollars for Scholars is evident, from the meticulous review of ChapterNet implementation to creating a brand-new fundraiser that helped attract new community members to the organization.
This sense of true ownership is also reflected in the affiliate's scholarship awards, which are customized based on each student's financial aid package. The labor-intensive process requires significant contributions from all volunteers -- and also pays off in reducing student debt, even attracting the attention of financial aid professionals nationally.
---
---
The Dream Award
Scholarship America's Dream Award is a renewable scholarship fund targeted toward completion. Awards are given to students who are entering their second year or higher of education beyond high school; the scholarships will grow in amount each year. This is the award started by Katie Couric.  It is a renewable scholarship that increases each year starting the 2nd year of college and applications are open until December 15, 2014.
"We need to make sure our scholarships see students through to graduation, instead of just supporting them their first year," says Scholarship America President & CEO Lauren Segal. "It is a tragedy for everyone when students drop out before they can complete their degree."
Current College Students: The Scholarship America Dream Award is Now Open for Applications!
     News:                                                              Contact:                       
                   Students and Parents:                Volunteers:
---
---
Marblehead Dollars for Scholars PO Box 4 Marblehead, MA 019455