---
The MDFS Run for the Fund is on June 5, 2016 at 9 AM: Register Here!
---
---
MYC CALENDAR OF EVENTS, 2015-2016
Monday, April 4 ~ Board Meeting ~ 7:30pm ~ MHS Faculty Lounge - cancelled, not yet rescheduled
Friday, April (TBD) ~ Sheridan Alumni Game ~ 7:00pm ~ MHS Gym 
Monday, May 2* ~ Board Meeting ~ 6:30pm* ~ MHS Faculty Lounge
Tuesday, June 7 ~ Board Meeting; HS awards ~ 7:30pm ~ Faculty Lounge 
Saturday, June 4 ~ 5th Annual Run for the Fund  ~ 8:00am ~ Devereux Beach                
Saturday, June 11 ~ Awards Ceremony ~ 1:00pm ~ home of Helaine Hazlett
Sunday, June 12 ~ MHS Graduation ~ 2:00pm ~ MHS Field House
*Town Meeting  
---
---
The Dream Award
Scholarship America's Dream Award is a renewable scholarship fund targeted toward completion. Awards are given to students who are entering their second year or higher of education beyond high school; the scholarships will grow in amount each year.
"We need to make sure our scholarships see students through to graduation, instead of just supporting them their first year," says Scholarship America President & CEO Lauren Segal. "It is a tragedy for everyone when students drop out before they can complete their degree."
Applications for the 2016-17 Scholarship America Dream Award are closed; stay tuned to meet the recipients at this spring's Dreams To Degrees event!! 
2017-18 applications open in October. Applicants must: be studying to obtain an associate's or first bachelor's degree; be enrolling as sophomores or higher with a minimum cumulative grade point average of 3.0 on a 4.0 scale (or its equivalent); demonstrate financial need. 
---
---
Congratulations to the 2015 Award Recipients!
 

Back Row: Graham Pollard, Jacob Sundlie, Benjamin Ryan, Maxwell Garthe, Zhen Humenn,

Mark Scribner, Robert Hill

Front Row: Karli Kovner, Eva Conte, Alexa Weistein, Jacquelyn Blayer, Laura Laub, Maisie Miller,

Grace Haley, Heather Purchase

Missing from photo Hannah Cohen

 

 

Judy Jacobi with recipient Maisie Miller

The Graders with recipient Max Garthe and The Cutting Family with recipient Eva Conte

 
---
---
---
Dollars for Scholars: Making a Difference in Communities Across America
---
---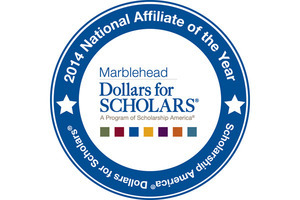 2014 Irving A. Fradkin National Affiliate of the Year
Marblehead Dollars for Scholars (Marblehead, MA)
---
---
Marblehead Dollars for Scholars PO Box 4 Marblehead, MA 019455