​
---
---
First Board Meeting of the 2016-2017 academic year:
September 19, 2016 ~ Monday ~ Board Meeting at MHS Faculty Lounge, 7:30 pm
---
---
Save the date: 
3rd Annual Hollers for Scholars Comedy Show Fundraiser
Saturday October 22nd ~ 6 to 10 PM
Gerry 5 VFA, 210 Beacon Street, Marblehead, MA
A full night of entertainment with these National Headliners:
One of a kind auction items:
On a beautiful and private street in Dionis, lies a sunny, well-maintained four bedroom custom home with an incredible pool and surrounding landscape.
The outdoor decks and patios have round the clock views of the moors, Nantucket Sound and the boundless skies above.  The inside has four bedrooms, two kitchens, 3 1/2 bathrooms and tons of space to read, relax and enjoy.
This private and secluded getaway is a shore walk to Dionis Beach and a very quick trip in to the famed town of Nantucket with world class restaurants and shopping. Long weekend in October 2017 to be negotiated with Owners.     
3 Bedroom Stowe Mountain Lodge   
Beautiful Front Four accommodations at The Stow Mountain Lodge.
The Front Four is the premier private residences within the Stowe Mountain Lodge; a resort and residential community located at the base of Spruce Peak and Mt. Mansfield. Enjoy hiking, spa, or just relaxing in this slice of heaven in Vermont.
Long weekend in October 2017 to be negotiated with Owners.
Boat Cruise in Boston Harbor:
The Carousel is an elegant 49' Eastbay Express, located in Boston and neighboring waters. This vessel boasts an expansive bow with a large mid cockpit and teak aft deck. The boat is finished in classic teak, features a lavish restroom and full-service galley. Cruise Boston Yacht Charters specializes in creating intimate private cruises for up to 12 guests. The Carousel is a perfect boat for entertaining a select group for an afternoon harbor cruise or evening cocktails cruise. Auction item includes glassware, beer/wine, non-alcoholic beverages and ice service. The winner can arrange for food if desired. This cruise will be a 2 hour cruise within Boston Harbor or have the cruise bring you back to Marblehead. Date, Time and Destination to be coordinated with cruise company.
Offshore Fishing Tournament - Summer 2017
Please join Brian Danforth and Chip Wolcott for a day of big game fishing. You and up to 5 of your friends/family will enjoy a beautiful day on the Atlantic searching Stellwagen Bank for giant Bluefin Tuna while enjoying the company of breaching Finback, Minke and Humpback Whales. 
The group will be split among 2 boats for a friendly competition between Brian's 26' Regulator and Chip's 30' Pursuit. Time and dates to be arranged with the two captains. The best tuna fishing is typically in August and September. 
Ticket Prices: $75 per person ~ tables are available the night of the event on a first-come, first-serve basis. Bring your friends for a fun evening of food and comedy for a great cause.
---
---
---
Congratulations to the 2016 Award Recipients!
---
---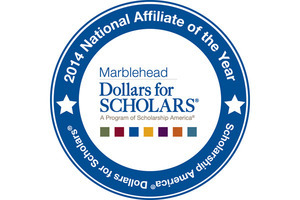 2014 Irving A. Fradkin National Affiliate of the Year
Marblehead Dollars for Scholars (Marblehead, MA)
---
---
Marblehead Dollars for Scholars PO Box 4 Marblehead, MA 019455