---
CALENDAR
May 22, 2017 Full Board meeting to review and approve HS awards
June 4, 2017 ~ Sunday ~ 6th Annual Run for the Fund ~ Devereux Beach, 9 am
June 10, 2017 ~ Saturday ~ Awards Ceremony at MHS, 2 Humphrey Street ~ 1:00 pm 
June 11, 2017 ~ MHS Graduation​​​
---
---

Sunday June 4, 2017, 9 AM at Devereaux Beach, Marblehead, MA
Online Registration ends June 2, 2017 at noon
---
 

A Message from Todd Zion, President of MDFS:

 

In case you didn't have a chance to read the recent two-part story on MDFS in the Marblehead Reporter, you can access the articles using the following links:

 

 

 

Special thanks go to Nancy Marrs who crafted a wonderful story (and jockeyed successfully for significant print real estate!).  Also, thanks to all the board members who contributed quotes, perspectives and photos for the story.  Great job all around.

 

 
---
2016 Annual Meeting 
New Board Members: Amanda Rosenberg, Kim Schillinger, Courtney Monaco, James Bacon, Heather Bush, Michael Weed
Petersen Award Winners: Day Newburg, Debbie Green, Mary Ellen Hart
---
---
Congratulations to the 2016 Award Recipients!
---
---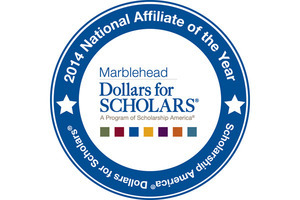 2014 Irving A. Fradkin National Affiliate of the Year
Marblehead Dollars for Scholars (Marblehead, MA)
---
---
Marblehead Dollars for Scholars PO Box 4 Marblehead, MA 019455