Congratulations, 2018 Graduates!  We are proud to present the 2018 MDFS Award Recipients:
The Dollars for Scholars ceremony is scheduled to be on MHTV Thursday, July 5 at 3 PM; Friday, July 6 at 7:30 PM; Friday, July 13 at 3 PM and Sunday, July 15 at 7 PM.  It will also air during the 3rd and 4th weeks of July (but those dates and times have not yet been determined). MHTV is found on Comcast channel 8 and Verizon channel 28.
---
The 2018 Run for the Fund was held on June 3, a beautiful spring morning. 
Thanks to all of the runners and walkers who came out to support Marblehead Dollars for Scholars.  For a complete listing of results, click here.  Congratulations to our top finishers:  Rebecca O'Hanley, Kylynn McKinley and Caroline Johnson; and Nick Curtis, Brian Heenan and Camden Harvey.
---
Devoted long-time Marblehead Dollars for Scholars board member and investment committee member Perry Morton passed away on April 19.
Read the complete obituary here.
---
Read these student profiles by board member Nancy Marrs featuring two of our scholarship recipients who are graduating from college.
---
  A Message from Todd Zion, President of MDFS:
  In case you didn't have a chance to read the recent two-part story on MDFS in the Marblehead Reporter,
  you can access the articles using the following links:
  Special thanks go to Nancy Marrs who crafted a wonderful story (and jockeyed successfully for significant print real estate!).  Also, thanks to all the board members who contributed quotes,
perspectives and photos for the story.  Great job all around.
---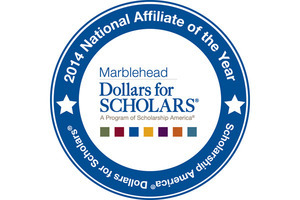 2014 Irving A. Fradkin National Affiliate of the Year
Marblehead Dollars for Scholars (Marblehead, MA)
---
---
Marblehead Dollars for Scholars PO Box 4 Marblehead, MA 019455